Nowadays hotels are trying to change their attitude towards training personnel, adding new practices, using technology and trying to make people more interested. Those new practices mostly come from US where hotels are looking for ways to differentiate themselves from other properties. In the modern age there not so many things you can try to differentiate on. Basically there are two – hotel design and service. Service takes a more important role for it requires constant improvement and evolution. Since service is performed by people it is important that these people are able to operate on the level set by the hotel. To increase their performance efficiency and customer satisfaction the hotel needs to train the personnel constantly. However, in order to differentiate your service from your competitors you have to train hotel team in a different way, so that their service would be recognized by the customer as someway distinct. Now, let´s look at some examples of how you can change your training process in a hotel.
Recently several hotels in US (Andaz 5th Avenue, Elysian Hotel) applied a new strategy in their training, which is hiring an outside improvisational comedy experts.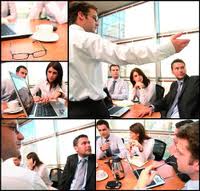 The idea is to teach employees a more interactive way to communicate with the client, to make them able to respond to various guest needs and wants quickly, to understand the body language of the guests etc. In Elysian Hotel, for example, the goal of this training was named as a way to develop "intuitive service". As a result, having well structured manuals is no longer enough. The employees should be able to improvise, should become more responsive, more participative in the process.
Another innovative practice in training is the usage of technologies. Several hotel brands are starting to use iPods and PlayStation Portable in their teaching sessions with employees. The executives say that there are several key advantages in this, like cost-reduction on the development of these programs. Also these innovations apply strongly to younger employees who are used to these items in their day-to-day life. This makes the process of training more interactive and entertaining. However there are some things to be careful regarding this approach. It is quite important not to get involved in technology use to deeply, for it may turn the process in a more impersonalized way. The use of technology is important; however the acknowledgment of proper balance is even more important.
One of the other possibilities to develop a higher level of your service is a so called life-coaching sessions. This applies to arranging seminars for employees on how to improve their life, how to define their goals, and set dreams of how they want their lives to be developing. The primary goal here is to make employees happier, motivated and to improve their lives, so that this would reflect in their work, and as a result increase customer satisfaction.
However, the most important thing to understand is that these approaches should not substitute the classical training practices, like courses, lectures, and real-life  simulations. They should bring more individuality to the training process and are intended to make people more involved. It is also used to speed up the coaching. Also, you are more likely to memorize the concepts and be able to apply them in your work if you had fun while learning, if you enjoyed the training. This is probably is one of the key objectives of this type of training. If your employees are happy they will make your guests also happy!